Vision
To be the foremost marine service provider in the oil & Gas industry.
Our Mission
To provide safe, dependable and efficient services
delivered with best international practices while
building a sustainable relationship with our stakeholders.
Our Values
Petromarine's success relies on shared values that make it unique. Every single day, Petromarine's people share these values in their determination to be:
Efficiency
Efficiency is about ensuring all service provided are of excellent quality, and provided in an organised and consistent manner. At Petromarine, being efficient goes hand in hand with consistency in relation to clients, superiors and colleagues.
Reliability
Reliability is about ensuring our services are trustworthy and consistent. At Petromarine, reliability goes hand in hand with transparency in relation to clients, superiors and colleagues. Reliability also entails upholding the brand and company reputation at all times.
Safety
Safety is about ensuring all operations carried out onshore and offshore, are done in a safe and timely manner. With the creation of the operational safety management guide, which assist each individual within the organisation, Petromarine has been able to ensure clients are being provided with the quality of service that is required.
Marine service overview
The services offered by Petromarine is one of the most reliable available in the Gulf of Guinea. Our maritime support activities cover the entire life cycle of an oil field.
Our service offering include:
Provision of offshore support and installation vessels
Assistance, salvage, and pollution remediation
Support to floating oil and gas production, storage, and unloading units
Towage, anchoring, and positioning of offshore installations
A standardised approach to save and efficient operations
For OUR crews, the success of a mission is measured in terms of client satisfaction.
To ensure client satisfaction, we provide standardized procedures, allowing a reliable, quality service in compliance with our safety standards, anywhere in the world. Because no missions are exactly alike, we adapt our service to our clients' needs. Being responsive enables us to provide client-tailored services.
Anchor handling, towage and offshore positioning
Petromarine's crews have in-depth experience in towing platforms, positioning and anchor handling. Their leitmotif? Safety, efficiency, and reliability.
Towing an offshore installation, positioning it, handling its anchors are missions carried out daily by our crews, who are able to support our clients worldwide in both continental and deepwater offshore.
Our broad experience in this type of operation leaves no place for the unknown and represents one of Petromarine's key competitive advantages. It's an advantage valued by our clients, who benefit from the Our operating standards.
FPSO support (Support of offshore terminals, and FPSOs)
The Marine Services Activity operates a fleet dedicated to the assistance and support of offshore oil and gas terminals.
Petromarine's terminal tugs is devoted to assistance operations, standby, and support of offshore oil and gas terminals, and is specialized in assisting FPSOs (floating production, storage and offloading units).
Petromarine Terminal tugs can be used as:
Back tugs for chemical tankers coming to supply the FPSO with methanol
Safety and security vessels for the FPSO: ready to intervene in case of fire, incidents and/or to watch for the intrusion of vessels or others on the field
Support of response teams on FPSO loading buoys
Our Fleet
PetroMarine Nigeria Limited provides marine vessel services to the oil and gas industry.
Our vessels provide support for the entire upstream oil and gas chain. We aim to provide
our clients with safe, reliable and cost-effective support services to meet the challenges
of their marine and sub-sea projects.
Tugs
Petromarine operates tugs to provide assistance and respond to offshore oil and gas terminals, and assistance to FPSOs.These vessels can be equipped with oil recovery system (OIL REC) and fire-fighting equipment (FiFi 1).
Excellent Manoeuvrability standard
Optimised fuel consumption
Firefighting Equipments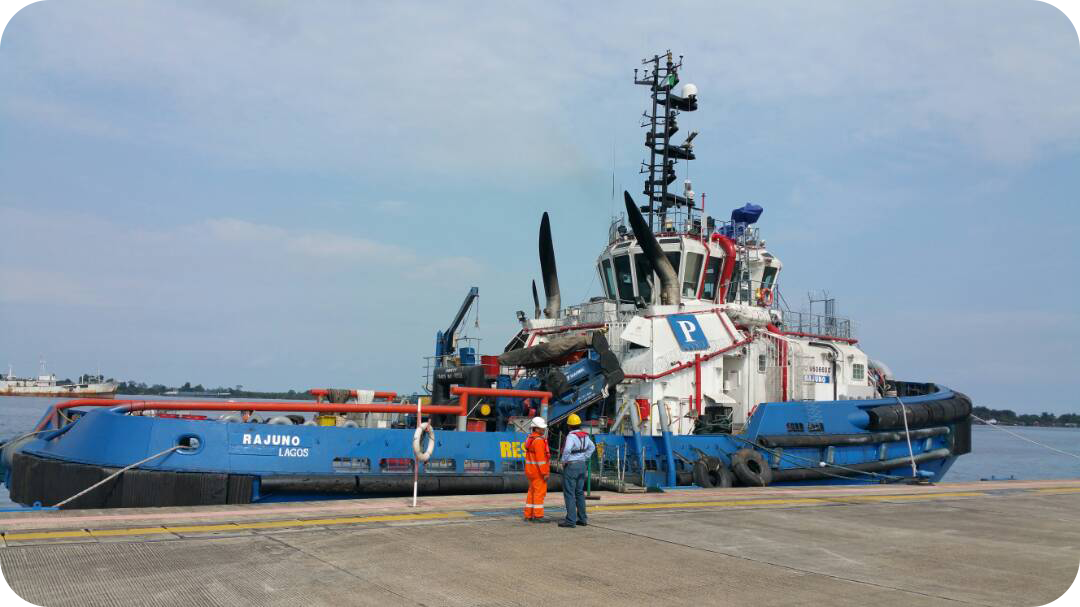 Platform Supply vessels (PSV)
Petromarine's PSVs are able to supply equipment and special products to platforms Offshore. Our PSVs (Platform Supply Vessels) have the advantage of offering a large deck area. They can transport all kinds of vital equipment for the offshore oil industry.
Large Storage Capacity
Excellent Manoeuvrability standard
Optimised fuel consumption
Firefighting Equipments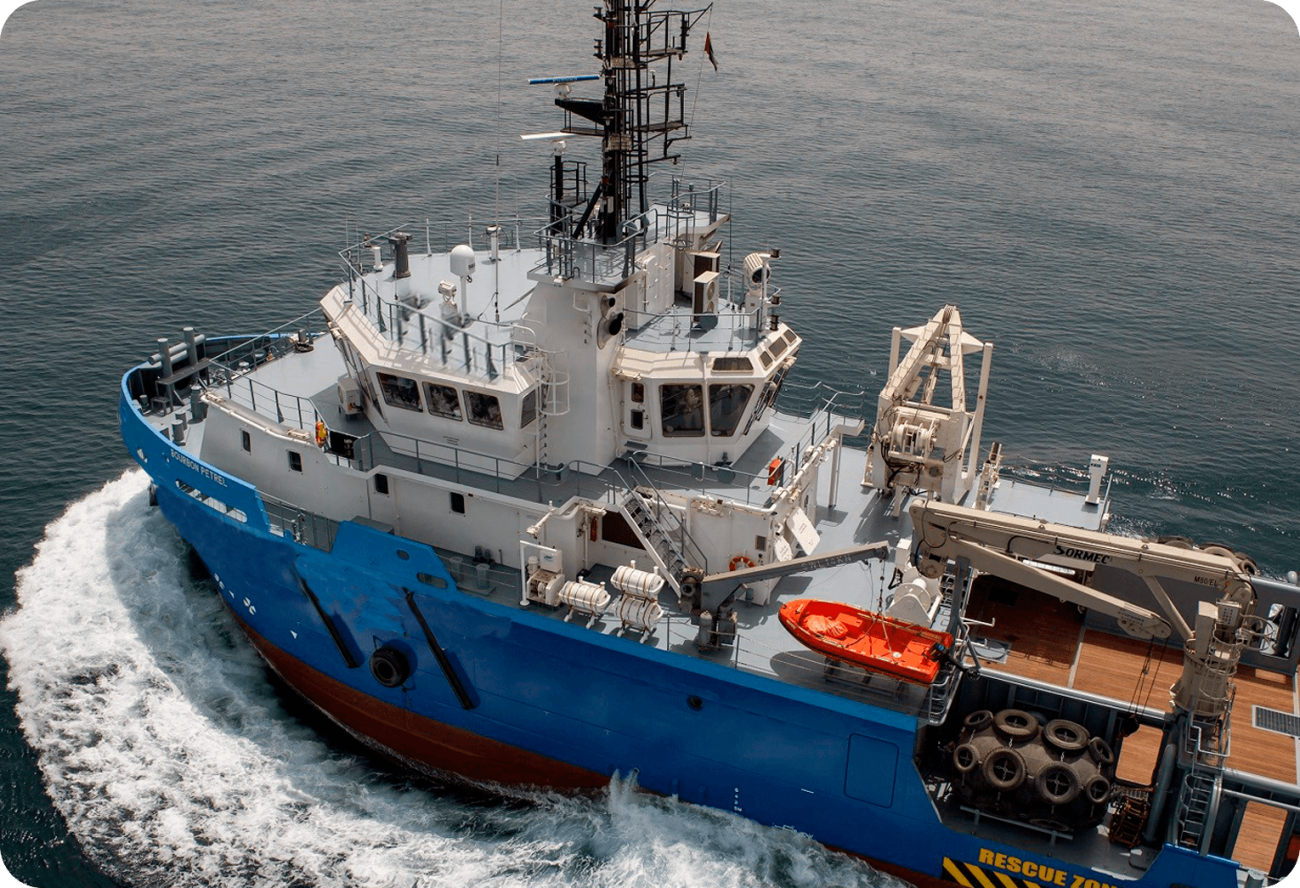 Anchor Handling Tug Supply (AHTS)
Anchor handling operations require vessels that are powerful, precise, and reliable. To meet the needs of our clients, we offer a modern, diversified fleet of AHTS. Our AHTS come in different bollard pull capabilities to meet all the needs of our oil and gas clients.
Powerful engines and winches
Excellent Manoeuvrability standard
Optimised fuel consumption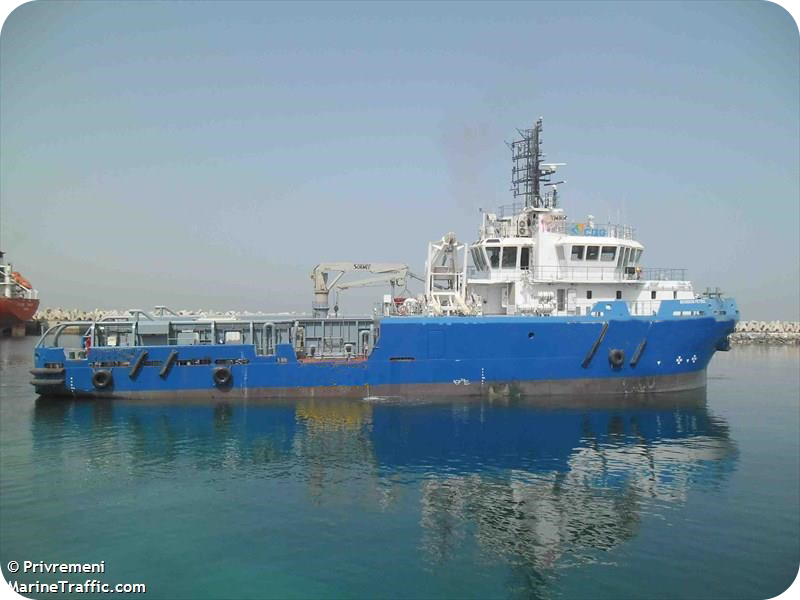 Multipurpose Supply Vessels (MPSV)
MPSVs are vessels specially designed for subsea operations. Versatile, they offer customers great flexibility of use. With DP3 or DP2 dynamic positioning technology, our vessels are equipped with high capacity cranes using active heave compensation to install equipment weighing up to 120 t at depths of up to 3,000 m.
Diesel – electric Engines
Excellent Manoeuvrability standard
Optimised fuel consumption
Pumping and storage capacity